Buying a capillaroscope is an important decision as it can be a major determinant of the quality of your capillaroscopies.
The capillaroscope (also known as capillaryscope or video capillaroscope) is a handheld microscopy device. It is used to inspect blood capillaries during a nailfold capillaroscopy procedure.
Several brands of these devices exist. In this article, we are going to present the best capillaroscopes and compare their features, quality, and cost.
Let's first understand more about the best capillaroscopes and capillaroscopy.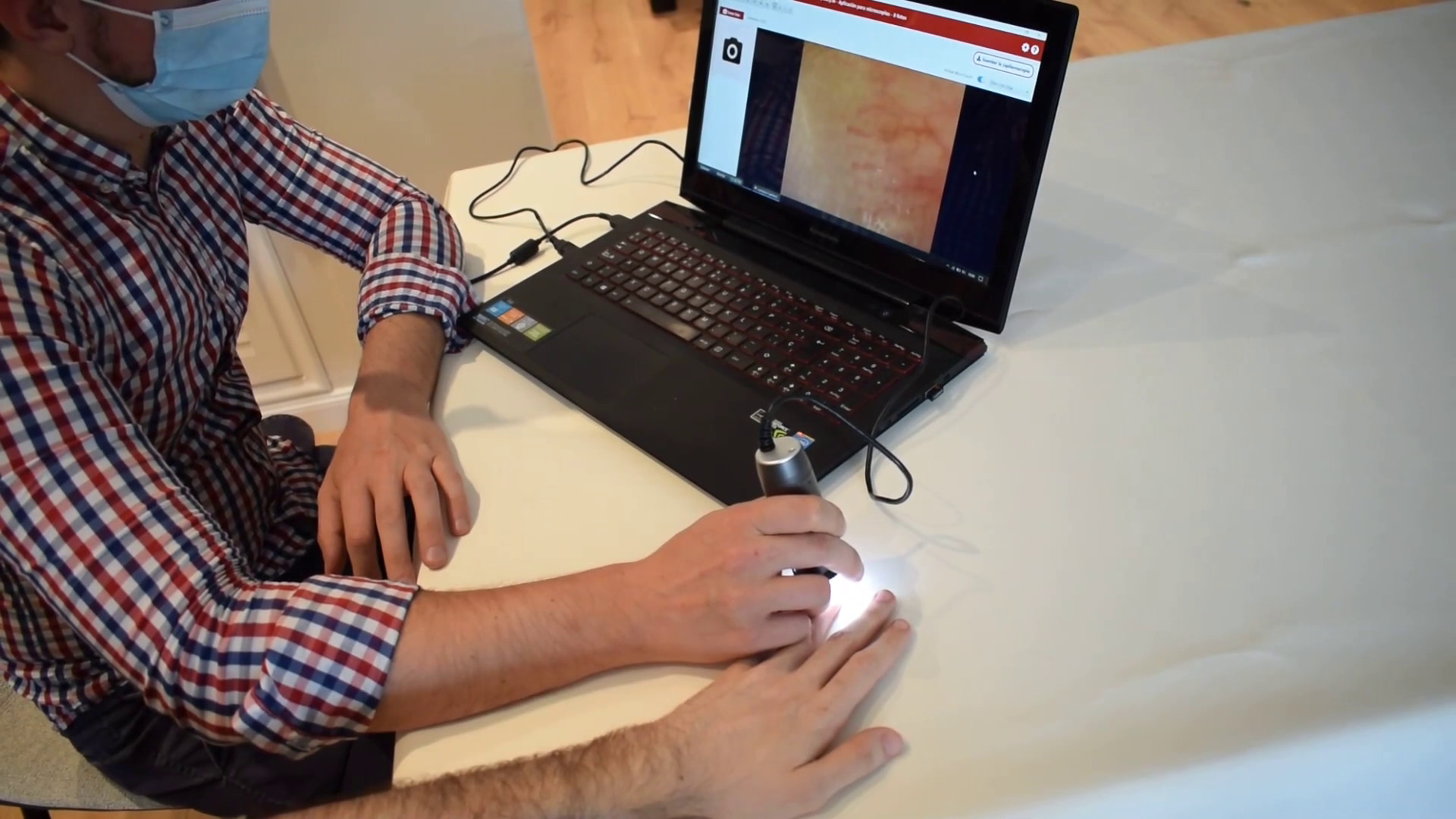 What is capillaroscopy and why is it done?
As we know, microcapillaries help transport oxygen, nutrients, and water to myocardial tissues. This microcirculation occurs in the arterioles, venules, and capillaries.
Capillaroscopy is a specialized diagnostic test, which helps monitor the health of our body's microcirculation. It can provide insights about a patient's disease: more importantly it allows us to make an early diagnosis. Swollen, bleeding, or completely absent nailfold capillaries can be indicative of signs of illness.
With the capillaroscopy test, patients can be informed of any potential health concerns and be diagnosed and treated for their conditions.
A medical review published in BioMedical Research International, discusses common approaches for measuring capillary dimensions.
There are a myriad of microscopy options available. Choosing the right setup can mean a world of difference in diagnosis and management of capillaroscopies.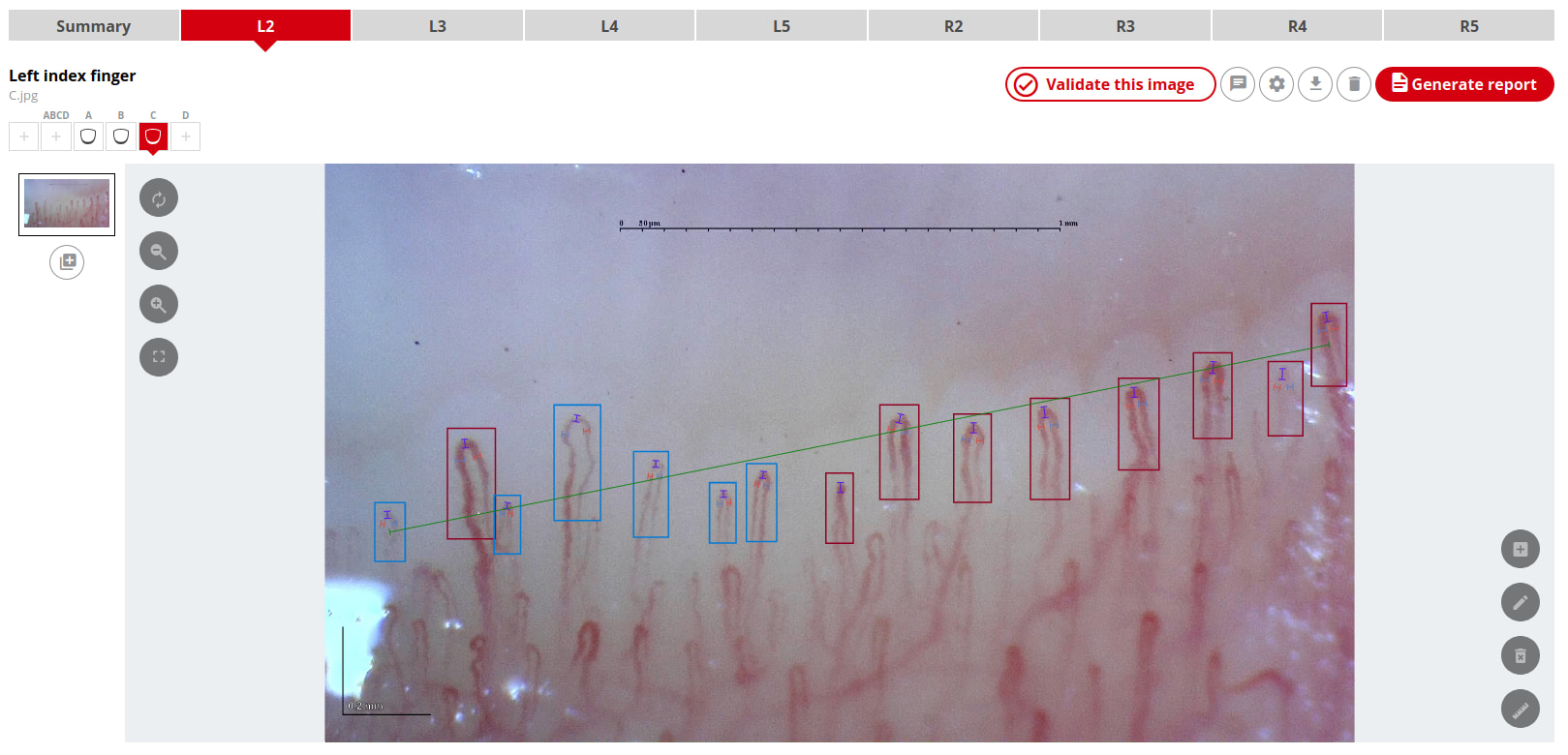 How a premium-quality immersion oil can improve the effectiveness of your capillaroscope
Imaging devices may not always provide the best pictures of the treatment site. The image may come out blurry or blown out of proportion—due to the patient's body shape and capillary position. In such cases, it can be challenging for physicians to correctly diagnose the patient's conditions and provide the treatment.
Immersion oils are designed to improve the images produced by imaging devices such as the capillaroscope. When capillaroscopy is performed, a drop of immersion oil is placed on the nailfold. The device is then placed on the lubricated area and the imaging is performed. A skin-friendly, immersion oil is used. It will have the same refractive index as that of the glass lens used in the capillaroscope. More light is directed through the immersion oil, allowing physicians to obtain a sharper and brighter image of the patient's capillaries.
High resolution images produced during the nailfold capillaroscopy give visibility into their shape, size, condition, and health of a patient's capillaries. This can lead to greater satisfaction and patient compliance.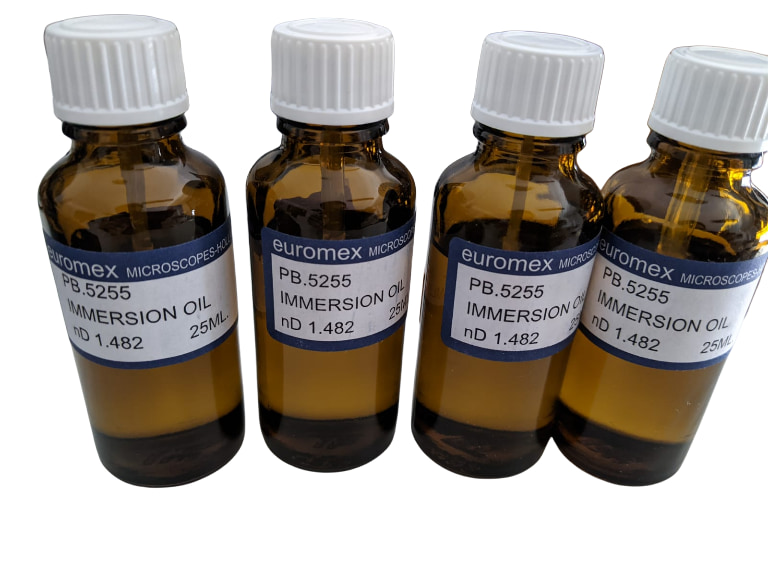 Which Capillaroscope is the Best?
There are numerous brands on sale today, we have found that the most widely used brands include the following options:  
We will study these brands in detail to help you determine if any of these brands are suitable for use or not.
First, we will dive deeper into the available options.
Why are capillaroscopes the best equipment for the nailfold capillaroscopy procedure?
Capillaroscopes aren't the only imaging tools used by physicians to diagnose any pathological problems during a nailfold capillaroscopy. When it comes to dermatological imaging, physicians also use a dermatoscope, a microscope, or other USB imaging devices. While they're helpful in their own way, they aren't equal to this instrument during nailfold capillaroscopy.
Here's why.
Capillaroscope vs dermatoscope
A dermatoscope is used to identify and diagnose skin lesions. It is better at tracking more dramatic changes in the skin's tone, texture and health. Often, capillaries may have subtle changes, which cannot be picked up by the dermatoscope due to its low magnification. Physicians need a device which is significantly more powerful. It allows thorough detection of minute capillary changes. 
Capillaroscope vs handheld microscope
While a handheld microscope is easy to use, it doesn't come with USB connectivity. It helps transfer data collected from the patient onto the doctor's laptop or other medical equipment. Images seen during the capillaroscopy can't be stored for later perusal. This makes it difficult to treat patients due to limited information. Whereas, most state-of-the-art capillaroscopes come with a USB cable.
Capillaroscope vs magnifying glass
A magnifying glass doesn't possess the intense magnification needed to identify pathological changes in the capillaries. It has only 5X to 10X magnification. Only very severe dilation may be visible faintly through a magnifying glass, even if it has a built-in light source. On the other hand, a capillaroscope's magnification can reach up to 1000X.
Capillaroscope vs ophthalmoscope
An ophthalmoscope is a specialized device used to examine the eye. While this tool does support imaging, it is not powerful enough to provide images of tiny capillaries or nascent signs of damage. Additionally, ophthalmoscopes don't come with storage ability and may be difficult for physicians to use due to their shape and size (which can be incompatible with the shape, size, and location of the nailfold). This makes them weak alternatives to capillaroscopes, which are better suited for capillaroscopy.
Capillaroscope vs Stereomicroscope
A Stereomicroscope is a tool used for imaging that requires lower levels of magnification. It is better suited to study solid specimens and surfaces while not being ideal for smaller capillaries during nailfold capillaroscopy. Stereomicroscopes require users to be specially trained in using them, which can add to time and expense. For taking photos, physicians will need to attach an additional camera to the Stereomicroscope. In comparison, a capillaroscope will already have the required technology needed to support capillaroscopy.
Top 5 reasons that a capillaroscope is the right choice for a purchase today
Considering the above, it's safe to say that the primary reasons why a traditional scope is the best option for nailfold traditional capillaroscopy are as follows: 
It's a portable device 
The conventional scope is a handheld device, making it very easy to use during bedside consultations. 
It offers excellent magnification and focus 
Given that most devices can have high magnification, it is very easy for physicians to find high-focus capillaroscopes for their diagnosis. Furthermore, capillaroscopes don't suffer from much distortion, especially if physicians use a good quality immersion oil to conduct the nailfold capillaroscopy. 
It produces high-resolution images 
These devices are designed to offer premium-quality images, compared to other imaging diagnostic devices. In fact, you can adjust the settings of the capillaroscope's camera to get the bespoke picture you want. It's very easy to get complete and clear visibility into a patient's microcirculation health through the capillaroscope. This supports an accurate diagnosis.
It allows physicians to see difficult-to-distinguish capillary changes 
Capillaroscopes benefit from polarization, which allows physicians to make out the most nuanced details on the nailfold. As previously stated, this allows a physician to catch the early signs of disease and to provide treatment of the condition.
It automatically calibrates to the test requirements 
Finally, capillaroscopes auto-calibrate based on the test conditions. This permits physicians to see the patient's capillaries clearly. Once the initial set-up is done, there isn't much that is needed to change or adjust when using the capillaroscope for nailfold capillaroscopy.
Best capillaroscopes on the market today
Now that we've understood what capillaroscopes are and why they're the best tools for pathological diagnosis, let's take a look at the best capillaroscopes on sale today.
Smart G-Scope
The Smart G-Scope is a cutting-edge digital capillaroscope designed to help you take high-resolution images of the smallest capillaries. The scope comes with both manual & automatic focus and a slide bar for magnification (highest of 250X), making it easy to use. The scope comes with numerous specialized end caps, including a capillary end cap that's perfect for nailfold capillaroscopy.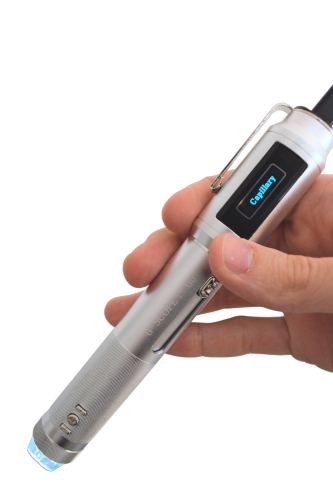 The Smart G-Scope also comes with a free application that you can easily download onto your laptop or Android device. The specialized software has been created to make data capture effortless. The automatic photo and video capturing & storage and capillary measurement make this capillaroscope very user friendly.
Physicians receive an entire kit with the end caps, microscope, remote control and other components in an easy-to-carry and portable kit. 
Using the Smart G-Scope for capillaroscopy is also very easy: 
Check the magnification necessary and set the device to the required level.
Apply immersion oil to the patient nailfold.
Connect the capillaroscope to your computer and use the software to capture images or videos of the patient nailfold capillaries.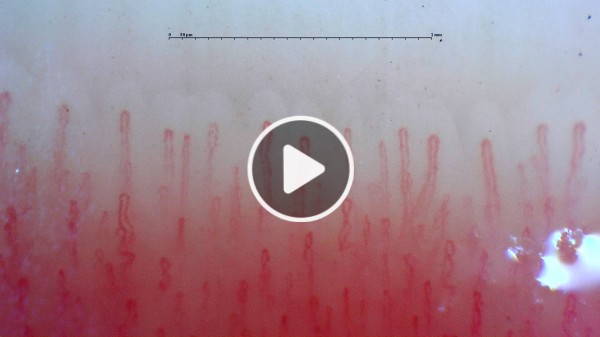 Inspectis Digital Capillaroscope
Inspectis Digital Capillaroscope is a state-of-the-art capillaroscope that comes with a powerful 200X magnification, coupled with 5MP image resolution. It comes with a USB3 cable that can be connected to your laptop. The built-in INSPECTIS© CAP Basics Capillaroscopy software collates the patient's capillary data – such as images and measurements – with ease. 
Inspectis is well-suited for examining minute changes in microcirculation and detecting early signs of capillary abnormalities. The device supports a hands-free image capture through the single-pedal footswitch. A benchtop holder for easy storage and usage is also included. 
Usage instructions for the Inspectis models are similar to the Smart G-Scope.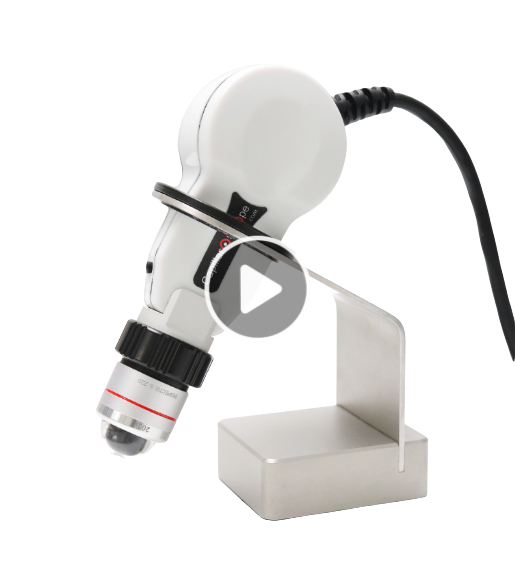 Dino-Lite CapillaryScope
The Dino-Lite CapillaryScope is a premier capillaroscope designed for the imaging of cuticles. It is certified according to the standards of the Medical Device Directive 93/42/EEC, modified 2007/47/EC. This capillaroscope supports magnification, up to 500X and an image resolution of 1.3 megapixels. The user can capture both static images and videos with the Dino-Lite CapillaryScope. In addition, dino-lite has AMR (automatic magnification reading) that works well. Yet, this is included only in the PRO models (MEDL4N Pro being the favorite).
It comes built with 8 LEDs which ensure sufficient illumination is provided. The device has an associated software that can be downloaded on any operating system, and images, videos and measurements can be captured seamlessly for further perusal.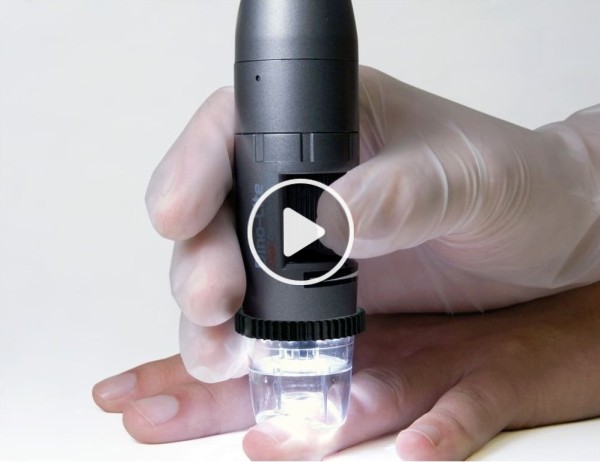 Optilia Digital Capillaroscopy System
The Optilia Digital Capillaroscope is renowned around the world for its quality and efficiency. This range includes all-in-one systems that offer a very user-friendly interface and a list of features necessary for not just capillaroscopy but other medical uses too.
This handheld video device comes with a powerful camera that offers extremely focused, high-resolution and bright images of the faintest of capillaries. You can even capture videos hands-free by using the footswitch. The device comes with the OptiPix Lite software, which helps physicians journal, track, and create detailed reports that focus on the findings of the capillaroscopy.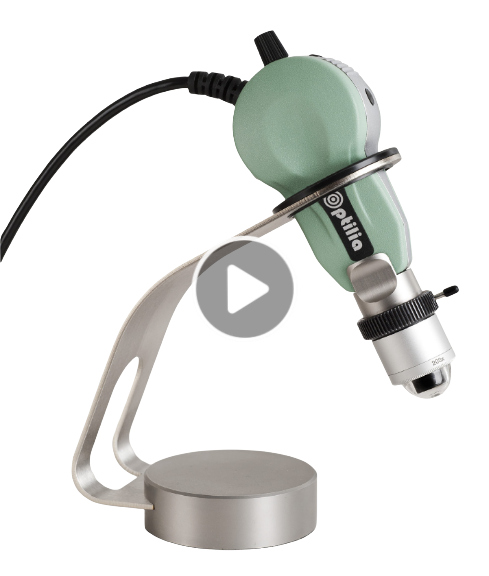 The Optilia capillaroscope offers a magnification of 200X and comes with built-in LED illumination. physicians also receive an immersion oil dropper and an immersion oil adapter too.
It comes with a desktop holder for easy usage. All of the components of the Optilia come in a premium Aluminum tin. 
A comparison summary of top capillaroscopes
Smart G-Scope
Dino-Lite CapillaryScope
Inspectis Capillaroscope
Optilia Capillaroscope
Overview
Full HD fast auto focus microscope that uses liquid lens technology.
Excellent response time for focus.
Changeable end caps for different use cases.
OLED Display.
Live viewing, image and video capture, video options, drawing and annotation tools, gridlines and scales.
High resolution images of the capillaries.
Excellent optic, illumination.
Basic software that allows you to save, measure and share images.
Count and measure capillaries using a grid.
Database local to the computer where it's installed.
A scalable system and a good way to get started with capillary inspection.
This hand held video capillaroscope gives you clear, colorful and detailed images.
Includes the OptiPix Lite software for viewing, measuring and archiving images.
Database local to the computer where it's installed.
Best Features
Very good image quality.
The only scope that can be easily used on a mobile device.
Many different end caps for different uses.
Comes with a remote controller.
Different automatic calibrations for measurement for different focus positions.
Possibility to buy different stands to hold the scope.
Box included to carry the microscope and end-caps.
Free advanced software for Windows and Android.
A wheel to alter magnification from 50 to about 200.
Good for panoramic inspection of the nailfold at 50 magnification.
Small "micro-touch" button to take photos.
High resolution and excellent image quality.

It comes in three versions: Basic, Pro and Extensive.
* Basic includes single switch pedal.
* Pro includes a laptop with pre-installed software, three switch pedal and carrying box.
* Extensive also includes healthcare cart with wheels.
Used for nailfold videocapillaroscopy examination, follow up, patient journaling and reporting.

It comes in four versions: Basic, Self-Install, Pre-Installed and Extensive.
* Basic kit includes carrying box and basic Optipix software.
* Self-install also includes patient database.
* Pre-installed also includes a laptop ready to use.
* Extensive kit also includes a healthcare cart with wheels.
Compatability
Android, Windows, Mac OS and Linux.
Windows, Mac OS, Android, iOS (requires WF-20 wi-fi adapter).
Windows.
Windows.
Remote controller
Infrared remote controller included.
No.
No.
No.
Calibration
Automatic plus embedded ruler in the image.
Automatic in PRO models with AMR feature.
Make sure to buy a model with AMR feature (auto magnification reading).
Single 200X calibration.
Optional lenses for 100X and 300X.
Single 200X calibration.
Optional lenses for 100X and 300X.
Resolution
Full HD (1920×1080) image and video capture (30fps).
1280×1024 image and video capture (15 fps).
640×480 mode can record video at 30fps.
2592×1944 (5 MP) @ 15 fps.
2000×1500 (3MP) @ 22 fps.
1920×1080 (Full HD) @ 30 fps.
640×480 (binning) @ 57 fps.
2000×1500
Aspect Ratio
16:9 at all resolutions (1920×1080, 1280×720, 720×480, 640×480).
5:4 for 1280×1024 resolution.
4:3 for 640×480 resolution.
4:3 at 5MP and 3MP mode. 16:9 at 2MP mode.
4:3
Magnification
40X, 100X, 180X, 250X. Only 250X for capillaroscopy mode.
50X-220X (for the 200 PRO model, the recommended one for capillaroscopy).
Other models have 500X magnification.
200X.
Optional 100X and 300X.
200X.
Optional 100X and 300X.
Who it's best for
Anyone that needs a Full HD capillaryscope for a good price at usual capillaroscopy magnification level.
It's has superior quality than Dino-Lite while in a similar price range, and also adds auto-focus and other useful features.
This is a good budget capillaryscope that is able to work both at 50X and 200X magnification level.
Dino-Lite also offers a different model with 500X magnification for people that need it.
People looking for high resolution, image quality and video recording. This is a high end model.
People looking for high resolution, image quality and video recording. This is a high end model.
Pricing
650-700€
750-800€
Usually starting at 6000€, depends on distributor and country.
Usually starting at 6000€, depends on distributor and country.
Our conclusion
Considering all of the above, it's very safe to say that both the Smart G-Scope and the Dino-Lite capillaroscopes are the best option available for both start-up medical clinics and smaller hospitals alike. They're affordable brands and come chock-ful of features that can help physicians perform capillaroscopy with ease.
To ensure your capillaroscopy is efficient, effective and obtains the perfect patient information, pair your device with the specially-designed software application for capillaroscopy by Capillary.io. Our advanced videocapillaroscopy software improves the results obtained during your capillaroscopy procedure by empowering you with the power of artificial intelligence. 
The AI analyzes the images that you take and uses existing medical research to give you the most current and relevant patient reports, allowing you to provide highly customized diagnosis and treatment:
Save hours of time by identifying and locating capillaries with accuracy.
Share and analyze images.
Reduced efforts in manually measuring capillaries.
Built in crowd-sourced learning capabilities based on the workflows of rheumatologists that allow accurate identification of abnormal capillaries.
All-in-one time-crunching automated reporting tools and data management.
User friendly and intuitive for physicians with busy workflows.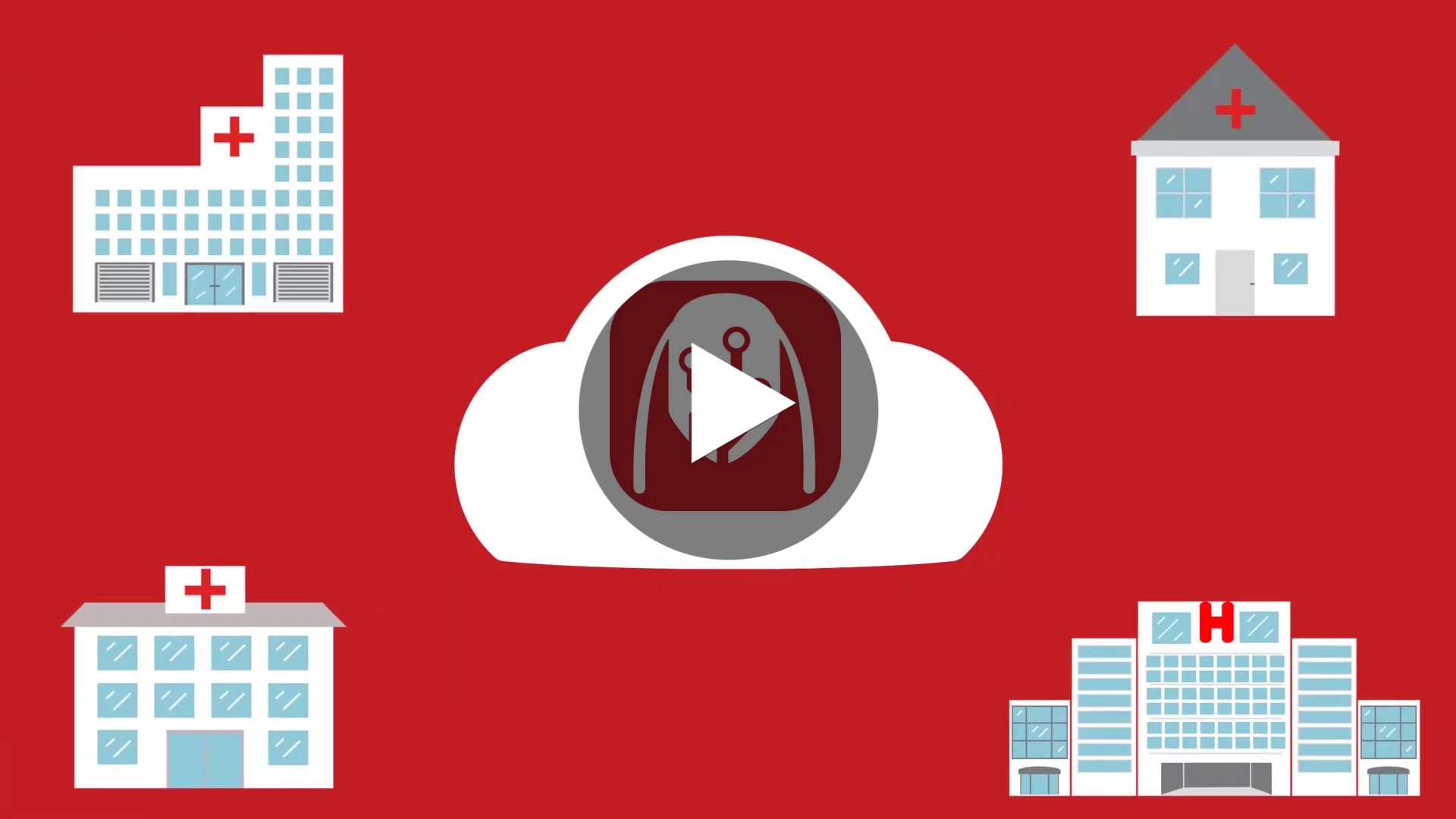 Schedule a chat and we'd be happy to assist you with finding the best scope for your needs.
Victor Phillips is a physician, healthtech writer and business consultant. Contact him for help with your next project.