The innovative clinical data and communication tool developed for Next-generation dermatologists, Legit.Health, has come to stay. Since its inception four years ago, this innovative dermatological application does not ceases to surprise us. Based on artificial intelligence and Deep Learning technology, it is capable of automatically and through a simple photography fill-in most of the medical grading systems, such as: PASI, SCORAD, UAS, GAGS, and many more dermatology scoring systems.
The algorithms designed by Legit.Health are capable of automatically scoring lesions just by looking at smartphone images, increasing doctor's correct diagnosis rate by 23%. This dermatology artificial intelligence clinically developed for 232 skin pathologies, has a technology capable of estimating the severity of the pathology by filling up the scoring system automatically, freeing doctors and patients from the tedious manual calculation of the measurement scales.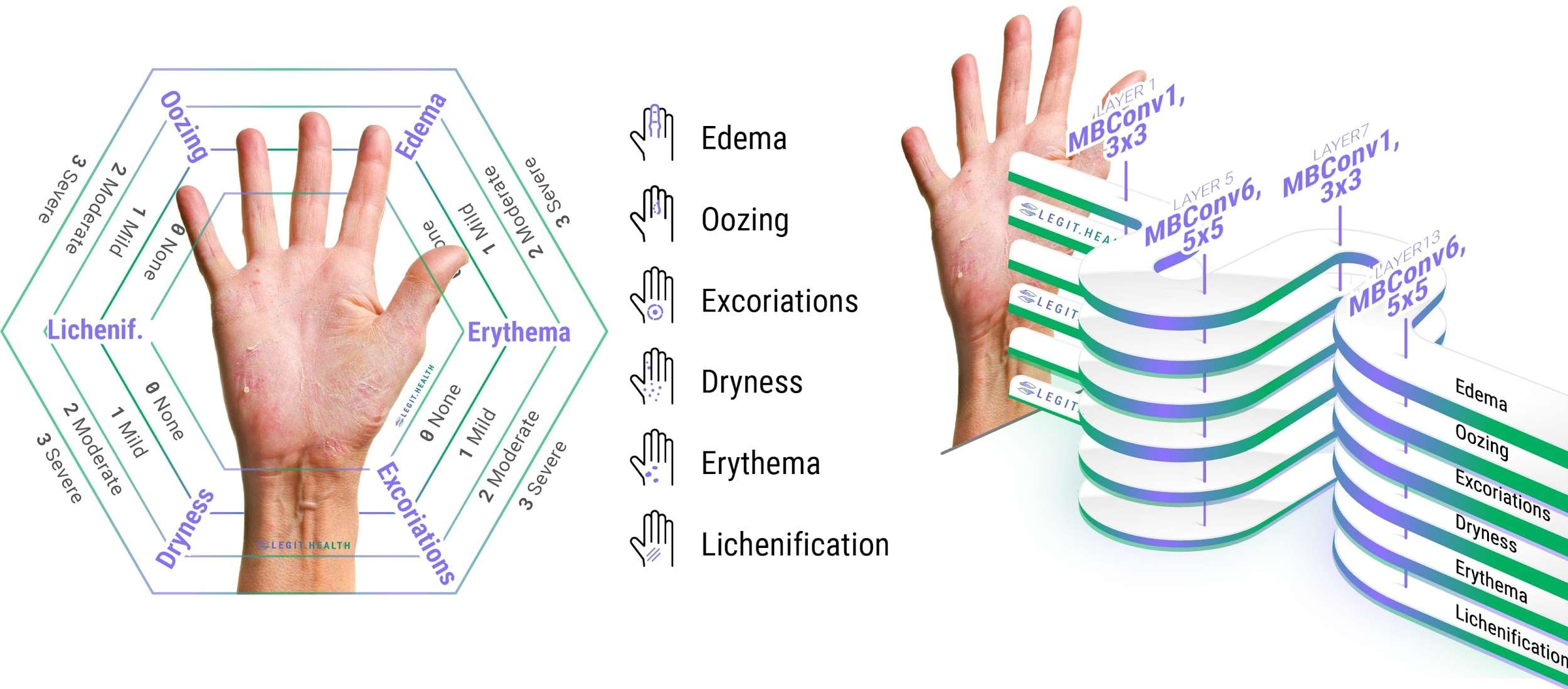 For this reason, Legit.Health is for those who take advantage of the opportunities offered by new technologies in order to continue growing as doctors, and soak up new techniques that help and facilitate improving the life of their patients, providing them with the necessary keys to ameliorate communication with their patients, creating a save and unique experience between the most important relationship in medicine, the doctor-patient relationship.
Thus becoming the next-generation dermatologists. Dermatologists who care about maintaining effective communication with their patients and want more real-world data to make their therapeutic decisions. Health professionals who pursue objectivity, precision and reliability and want the best tool during the diagnosis of the disease.
Additionally, Legit.Health speeds up the pathology reporting process so patients can report a pathology in less than 23 seconds. Increasing the autonomy and control of the patient, and significantly reducing their loneliness and isolation, directly improving their mood and emotional health, very unstable in this type of highly visible pathologies.
Therefore, this application is nothing more than a tool designed to make the patient feel understood and supported at all times by health professionals. So that they can give the best diagnosis by getting their patients to be able to speak their language, improving their quality of life.
Legit.Health is the future of dermatology, a tool that brings together all the necessary characteristics to create a unique experience. An application that merges technology and medicine resulting in a revolutionary clinical data and communication tool capable of automatically estimating the severity of a pathology quickly and accurately. An application that is already within the reach of all Next-generation dermatologists.