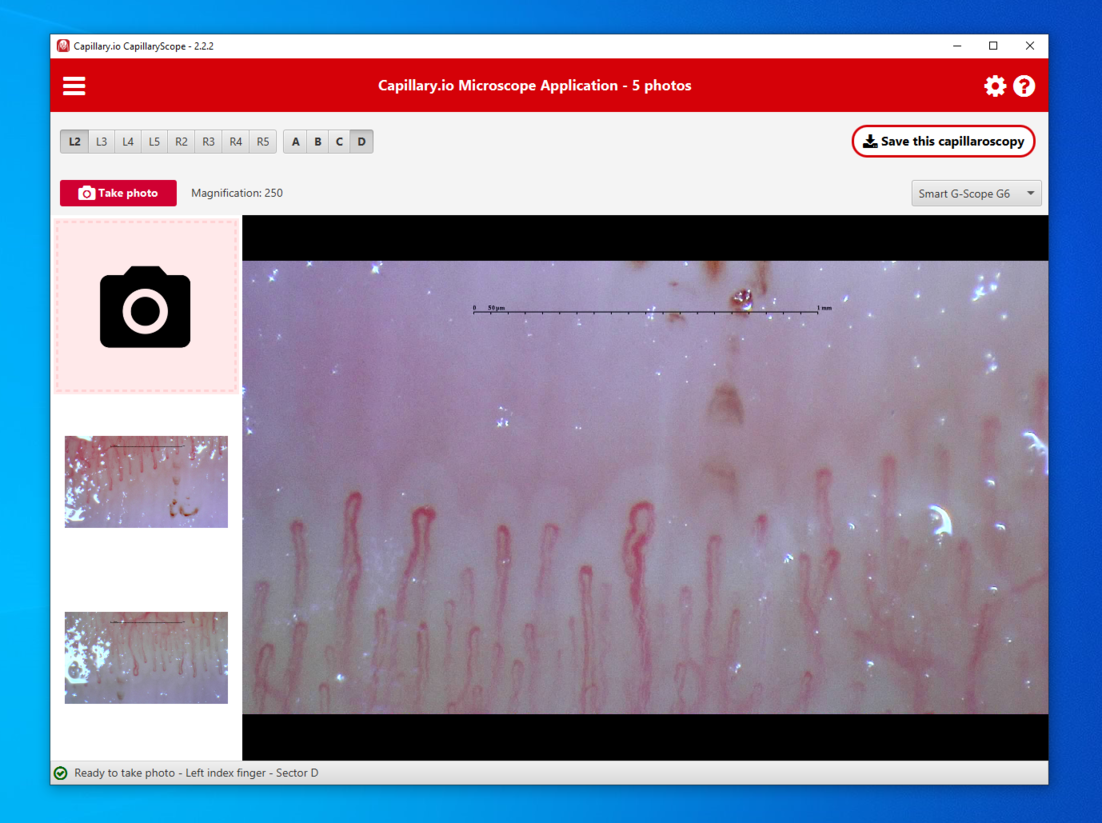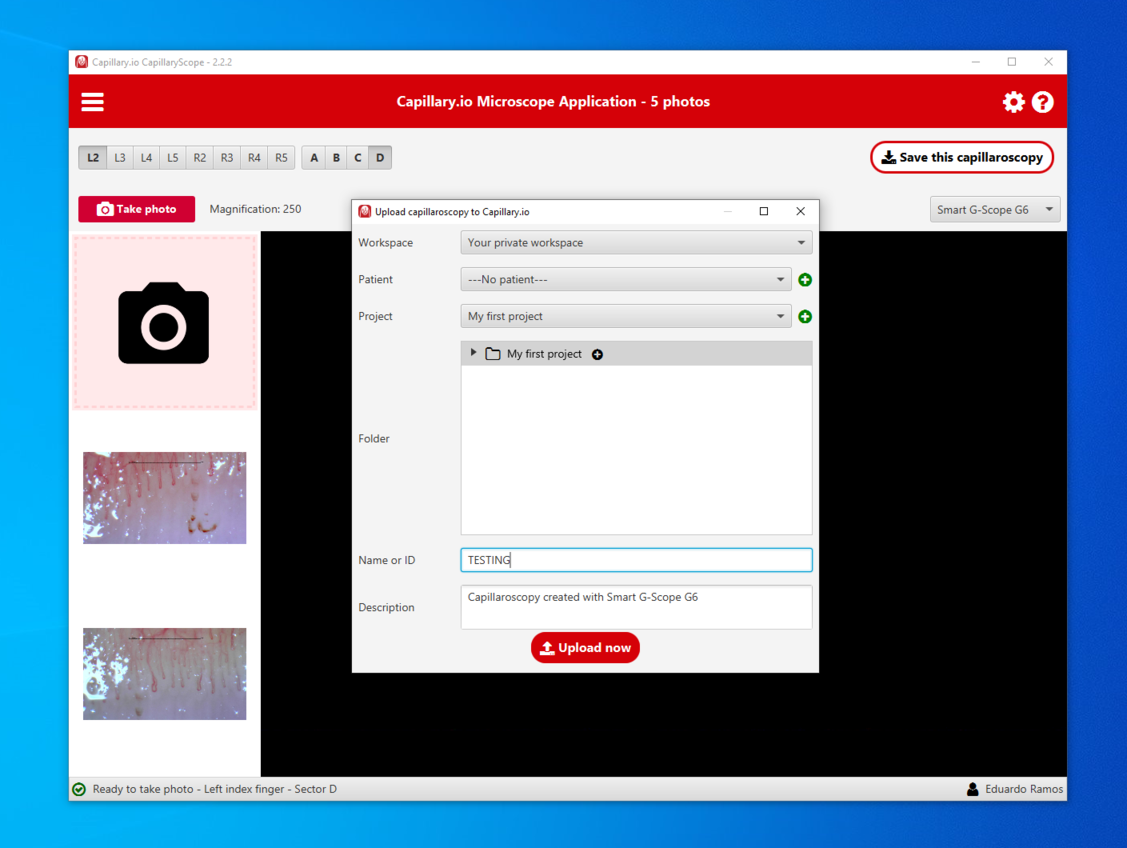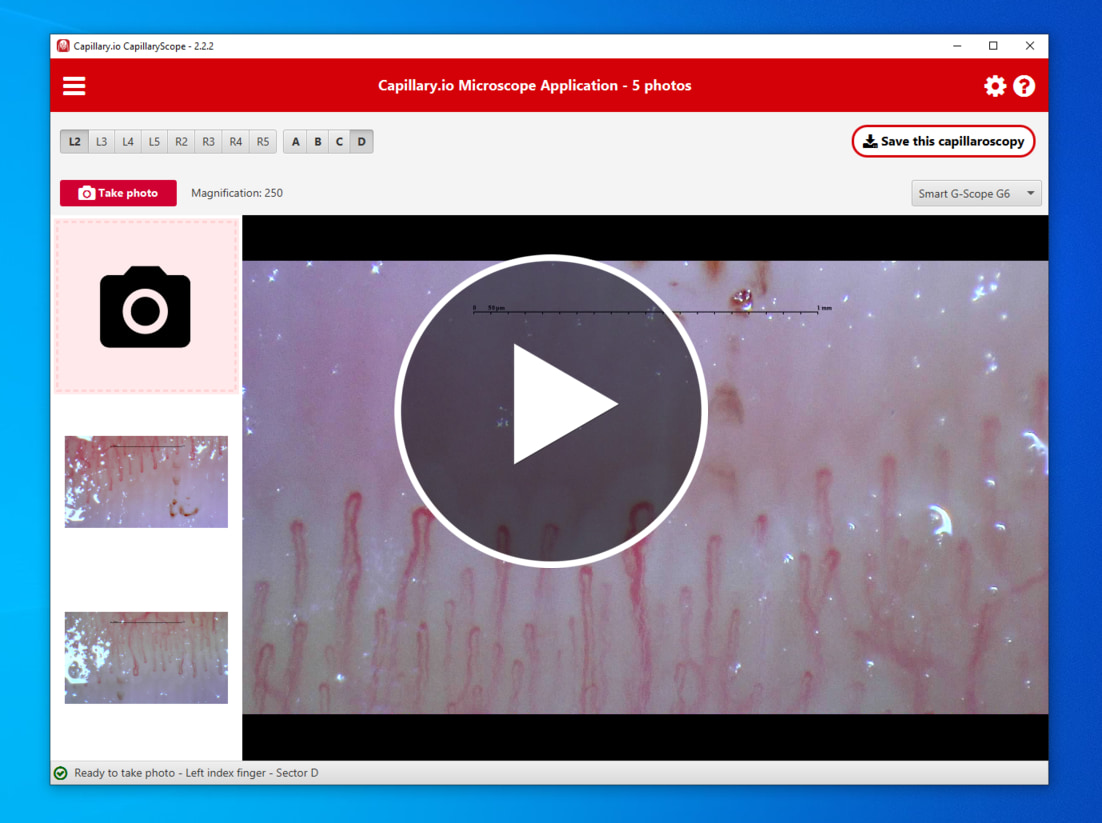 Download CapillaryScope installer for Windows (64 bit)
Download CapillaryScope installer for Windows (32 bit)
Download CapillaryScope for Mac OS X (dmg)
Requirements:
Microsoft Windows 7 or newer / Mac OS X 10.11 or newer
Any USB microscope
Capillary.io CapillaryScope is a free desktop application that is very similar to Dino-Lite DinoCapture or DinoXcope and Optilia OptiPix, but it's specially designed for doing nailfold capillaroscopy with your favourite USB microscope.
The application is very simple to use, and helps you to take photos of capillaries indicating the finger and nail sector of each photo, and makes sure to preserve this information in the image file metadata so it's never lost even if you rename the file.
Also, it saves magnification level and physical distance information in the photo metadata itself, so it can be read by other applications easily.
The physical distance information is very important for examining and measuring capillaries, a crucial part of nailfold capillaroscopy.
Capillary.io CapillaryScope also lets you upload the taken photos to our website in just one click, or save them to your computer for later.
When you upload photos to our website we will store them for you, and perform an automatic analysis of nailfold capillaries including detection, measurement and classification of capillaries and hemorrhages.
This application is the best way to take photos and upload them to Capillary.io.
It automatically reads magnification and physical distance information for Smart G-Scope and Dino-Lite microscopes only, but you can calibrate any other USB camera manually, or use our bundled calibrations for common cameras such as Optilia Digital Capillaroscope and Inspectis Digital Capillaroscope.